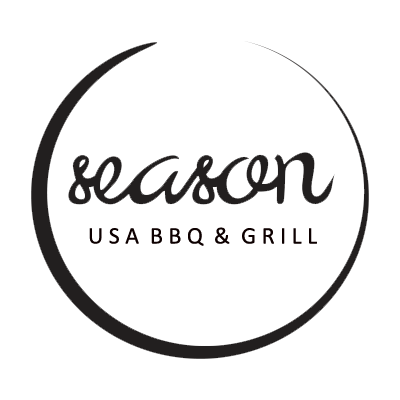 Everybody loves an All American Grill and BBQ!
We bring the BBQs or use our Titan Grill to bring the American dream to Rural Scotland!
We cook on open grills using wood & coals and webers to smoke and slow cook.
Not only that, but we use our Titan Hog roast machine to spit roast and flat grill and also use as a servery.
All ingredients are locally sourced and the food created is based on complimenting the core ingredient with accurate cooking techniques.
The butchers we use are the best in the business.
For meat lovers, this option is a great way to celebrate your wedding or corporate event.
It's Big & Wholesome, a great way to sample some great comfort food.
The food is served as sharing platters to the table on wooden boards, bamboo plates, slate, burger boxes or stainless steel buckets.
We suggest adding two side dishes per person to any of the mains also served as sharing platters.
Our staff are all dressed in black t-shirts with the Season logo, looking the part of a true professional team.
Bonus!
No cater hire costs, apart from glasses or possible linen, we do suggest no linen though for this style of catering.
When working out costs, remember to add v.a.t to the final bill.
Please contact the Season Team now to ensure availability & to sample our new services.
WEBBER SLOW COOKED BIG RIBS

£9.00

Slow Cooked Big sticky ribs and BBQ sauce

TEXAS ALL BEEF BURGERS

£14.50

Aberdeen Angus beef patties, courgettes pickle, Brie & rocket, BBQ Sauce & Condiments

WHOLE CORN IN THE SKINS

£7.50

Maple butter and toasted almonds
T BONE STEAKS - SERVES TWO

£52.00

Perthshires Finest T Bone Steak Grilled to perfection, Red Wine Mushroom Gravy
PRIME RIB OF BEEF - 28 DAY MATURED 10 OZ

£29.50

Grilled, Garlic Butter, Rosemary & Maldon Sea Salt, Thyme & Malt Gravy

GIANT PORK SAUSAGES

£12.50

Mustard and ketchup, hot dog buns

VENISON PRIME RUMP - CHARGRILLED 10OZ

£26.50

Thyme & Garlic Rubbed Venison Steak, Wild Mushroom & Red Current Gravy

NAPA VENISON BURGER - CHAR GRILLED

£18.50

Venison Pattie 8oz, Red Onion jam, Courgette Pickle, Baby gem, Tomato & Halumi Cheese

BOHEMIAN GROVE BURGER - NO EXCESS IN THE GROVE

£22.50

Beef Fillet Burger, Truffle Mayo, Pesto, Rocket, Heritage Tom Salsa, Milk brioche Bun

Creamy Mash potato, Seasonal greens, Fries, Fat chips, Baked Sweet Potato, Soured Cream and Chives, Corn on the Cobb, Rocket Salad, Tomato Three Way Salad, Avocado station